On the Way Home
We are headed for the barn and the GIB is taking photos again. Our position is about two miles north-east of his house in Indian Wells.
The airport is dead ahead to the north-west at about 12 miles.
Landing at Palm Springs
The pilot made a low approach flying 1000 feet above the runway, just for show. The museum is busy on a Saturday and visitors flock to the ramp to see the Mustang pass.
After the pass, we made a steep right break to downwind for landing.
The video shows the downwind leg and landing. The runway is on our right.
It was about 30 minutes from engine start to shutdown.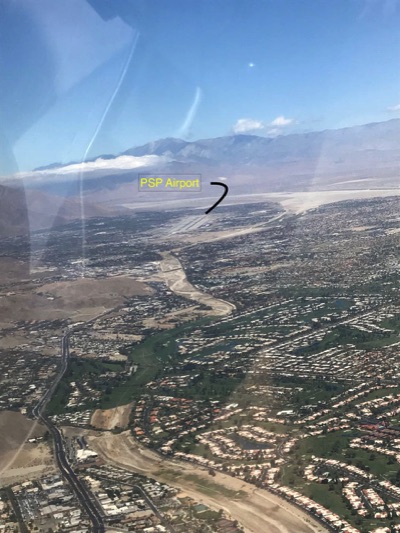 Flight Maneuvers
The pilot selected a remote area south of Jacqueline Cochran Airport and west of the Salton Sea. There we did a number of fighter maneuvers culminating with two chandelles. A chandelle is an aircraft control maneuver where the pilot combines a 180° turn with a climb.
The first chandelle was a steep climb and turn to the left at the top, followed by a steep dive to regain airspeed. The second chandelle, featured a turn to the right, followed by another dive.
Think of your wildest roller-coaster ride and double it.
The GIB was too involved with G-forces to take photos or videos of these maneuvers.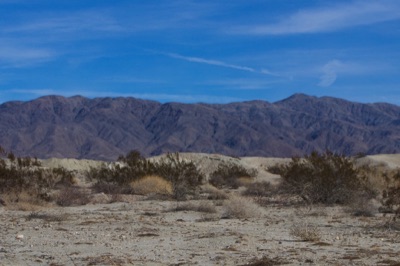 This is typical of the terrain where we did the flight maneuvers. Desolate and remote. We stayed over the mountains.